BRYANS DOUBLE-DECKER (Operator's instructions)
Installation
Although this machine is proof against bumping, it must be firmly fixed
upright and level to shelf or wall. Screw holes are provided for this purpose in
the back and bottom of the case. Access to the case back is gained by removing
the silver back-flashes which are held by fixing nuts; it is not necessary to
disturb the bus tracks.
Fix a 3-pin plug (preferably fused 5 amp) to cable, and connect to 240 volt
A.C. supply.
Place the RED bus on the upper track, the GREEN bus on the lower, and start
the machine. The buses should run almost to the end of the tracks, but must not
bump against the upturned ends.
If necessary, the angle of the track tilt may be increased or decreased by
adjusting the finger-tight screws in the bus track stops as required.
Fill the "unswept" portions of both tables with one layer of coins.
Operation
Cash till "take" may be increased by removing the cash draw and turning
the turnbuckles on the underside of the case shelf which allows the flaps to drop.
This enables some coins on the lower table to fall off the rear edge into the
cash till.
The holes in the top deck allow some coins to fall on to the lower deck,
but those holes may be blocked by pivotting the discs provided on the underside
of the top deck to alter play as follows:-
Normal Operation
Holes open give smaller payouts on top deck,
big payouts on lower deck.
Alternative Operation
Holes closed give small payouts off
both decks.
Maintenance
Both the motor and the lighting circuits can be isolated by disconnecting
appropriate plug connectors.
Keep tables, coin chutes and bus tracks clean. Sweep arms spring release
tension and coin selector gate are adjustable if necessary.
Very occasionally, oil moving parts and bus wheel axle bearings. The
mechanism driving belt should be run slack, if slip does occur, slide the motor
platform to adjust. Do not use metal polish on the case front, a wipe with a damp
cloth is all it needs.
Specification
Glass sizes:
1/4in. plate, top 18 x 8 ins; bottom 18 x 6 1/2 ins.
Motor:
240v A.C. 50 cycles, 12 r.p.m.
Bulbs:
240v 15w. pygmy small bayonet cap.
Buses:
Lesney Matchbox Series,
1 No.74 Daimler bus
1 No. 5 London bus.
B R Y A N S W O R K S, K E G W O R T H, D E R B Y.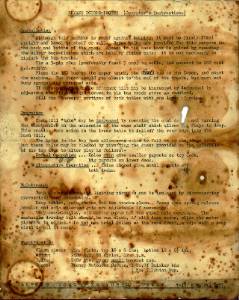 The original instructions, and why I had to retype them!