Visitors since
1st Feb 2001
**Special Offers on John Smith Music Rolls**
This section of the site is devoted to the John Smith 'build-it-yourself' organs. It includes photographs and articles on the construction, and hundreds of hints and tips from fellow builders. There is also a photo gallery, with around 80 photographs of completed organs. You can get LOTS of ideas from this section.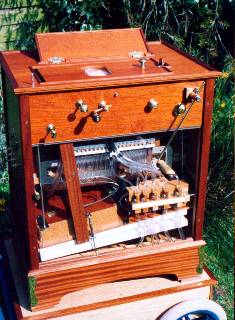 26-note John Smith organ - built by Bernard Pilgrim
Articles about the John Smith Organs, hundreds of building tips
See the John Smith Photo Gallery
Discuss your organ build on the Busker Organ Forum
BOOK: Getting Started on the John Smith Busker Organ

Grab your tools and a copy of this book and start building straight away, without having to wade through pages of text, drawings, supplements, calculations, and a video!
Scores of people have bought this book and successfully completed the organ, after initially giving up.

Contents: Description of the organ and an explanation of how it works; large chart showing the dimensions of all the pipe components at a glance; step-by-step instructions for cutting the wood and making the pipes; comprehensive list of materials you will need to start; how to voice the pipes; tuning and regulating the pipes, including vital tests that are not even mentioned in the plans; how to rectify pipe faults; experimenting with the tone; organ pipe terminology; troubleshooting guide. Once you've made all the pipes, the rest of the organ is easy!
Over 20 pages packed with information, inc.18 colour photographs showing pipe construction.
Price: £12.90 (plus p&p) Now available as a free pdf file. Contact me to download
Please note that my book does not replace the plans for the organ. It is a supplement to the plans to help you get started and make the pipes. You will still need to buy the organ plans from John Smith. (See the bottom of this page).

How To Make Organ Pipes - The Art Of Organ Building Vol.2 (758 pages)
This book is a treasure trove of information about pipe making (as well as other things). Chapters on wood and metal pipe making, including which woods to use. Comprehensive construction details and cross-sections of every type of organ pipe: wood and metal, flues and reeds, special pipes, scale charts, how to make, voice, tune and regulate them, etc. A total of 234 pages devoted to organ pipes alone.
BUY NOW (UK / US) while you still can! Other books on organ building

I am always pleased to receive articles for this web site. If you have any articles, or just small hints or building tips for the John Smith organ, please email them to me.
All contributors of articles receive FREE MUSIC, and all submissions will be credited to you. That's instant fame and free music - what more could you want?
About the John Smith Busker Organ (by Melvyn Wright)
In 1996 John Smith of Flitwick (UK) advertised a set of revolutionary organ plans in the magazine of the British Organ Grinders Association. The plans detailed the construction of a small 20-note busker organ which could be built for less than £100. Unlike the few complicated amateur designs that were already available, this organ was specifically designed so that anybody with the minimum of skill could build it, using readily-available materials from the local DIY superstore! And what is more - the plans were in English!
John went out of his way to simplify the design as much as possible, abandoning many traditional organ builders' techniques, and incorporating new innovative methods of construction. The finished organ was not meant to be as durable or refined as a professional organ, but it would provide the enthusiast with something to do for a few weeks, and he would end up with a working organ for a fraction of the price of a commercially-built instrument.
Since then hundreds, perhaps thousands, of John Smith organs have been constructed by enthusiasts all over the world. The plans have also been bought by model engineers, woodworkers, and other craftsmen who would not normally have an interest in busker organs; so interest in the mechanical organ has spread as a result. The published plans did not provide details of a case, which has resulted in the appearance of organs of all shapes and sizes. Many builders have used 'proper' organ building materials and ended up with an organ which is on a par with a professional model. Many more have caught the 'organ building bug' and gone on to build much larger instruments.
In the early days, no commercial music was available for the organ, and builders had to produce their own music rolls. I now supply ready-cut music for both 20-note and 26-note John Smith organs. In fact, so many of these organs have now been built that the supply of music for John Smith organs far outstrips the demand for all other organ music. I have supplied many thousands of rolls of music for John Smith organs all over the world. If you hear a John Smith organ playing something that sounds too good to be true, then it's probably playing my music! I also supply blank spools, roll boxes, and other musical sundries for these organs. Click Here to request my music catalogue for the John Smith organ(s). I will also punch out your own music for you on my high-speed perforators if you send me a MIDI file. Click Here to find out more.
If you would like to obtain the plans for any of John Smith's organs Click here.
or to contact John Smith email here
or you can write to him at the following address:
John Smith, 55 Willow Way, Flitwick, Bedfordshire, MK45 1LN, England.
He can also be reached by telephone or fax, on: +44 (0) 1525 712496
If you would rather obtain a complete kit of parts to build a similar organ, click here
About John Smith's new 26-note Universal organ
Articles about the John Smith Organs, hundreds of building tips
See the John Smith Photo Gallery
Scales for the Topsy organs
---
"Music for the organs is available from Hal O'Rourke, who is the United States agent for Melvyn Wright. The arrangements are delightful and show the true genius of Melvyn, who can squeeze more music out of 20 notes than anyone I know." (MMD Archives 010121) Sadly, Hal O'Rourke died in 2010, but US customers can order the music directly from me.
This web site is copyright (C) Melvyn Wright and individual contributors