WELCOME TO CYBER-STEAM!
Welcome to "Cyber-Steam"! The Internet's first Virtual Old-Tyme Steam Fair.
100 Best Things to do in England
You can now visit an English steam fair without leaving the comfort of your armchair, and without having to trudge around a field all day, up to your knees in mud.
A field, similar to one where where a steam fair might be held
What is a steam fair?
Steam fairs usually take place in a farmer's field, after the cows have been removed (see photo of field). People bring traction engines, organs, barn engines, models, ice cream vans, old cars lorries and buses, and any other ancient pieces of machinery and scrap; and the public pays money to get in to see these wonderful exhibits. There is sometimes a selection of fairground rides as well - ancient or modern. There is also often a traders' section, where market traders sell items which have nothing to do with steam fairs. Steam fairs are very popular in England, mainly for nostalgia reasons. People can get to view the sort of things they chucked out years ago, and when they are reminded of them again, they are glad they did. Many of the exhibits at steam fairs are restored to perfection by their proud owners, who devote considerable expense and effort in restoring their beloved machines to their former glory. Other exhibits are brand new, but just look as though they were two hundred years old.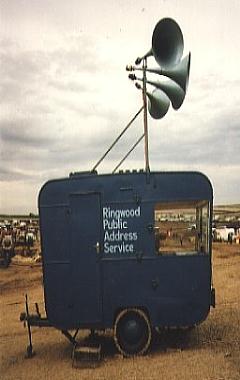 Blast: "Roll up, roll up, and see the old-tyme steam fair" Blast - Blare
(This mobile contraption can also be hired for neighbour disputes)
So now, put your wellies on, and come and join in the fun. You can walk around the steam fair by clicking on the options of your choice.
Readers who wish to enjoy a more realistic experience can splodge about with their wellies in a washing-up bowl full of mud (see right) whilst viewing the many fascinating old-tyme exhibits.
Note that you can only get to certain parts of the steam fair by going through other parts, so have a good look around - and good look:
Pay 50p to get into the Car Park, then proceed to the Entrance Kiosk
THIS WAY to pay at the entrance, or THIS WAY to sneak in through the fence

Press this house if you don't want to go to the Steam Fair